Festivals & Food
Throughout the year, New Vrindavan hosts thousands of pilgrims, many from the Hindu population in the USA and Hindus visiting from India.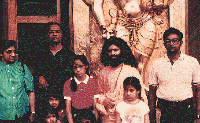 Often they come to participate in Janmastami, the advent of Lord Krishna celebration, which is the holiest day of the year. The various festivals at New Vrindavan include chanting,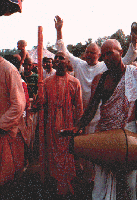 ceremonies, a swan boat event, and dramatic storytelling and performances. The highlight of the festivals is the feast when hundreds of guests are served prasadam (sanctified foods)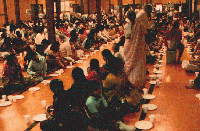 .
As in traditional India, community activities and festivals center around the worship of their lordships Sri Sri Radha Krishna. Other major festivals include Gaura-Purnima, Appearance of Lord Rama, Ratha-yatra, the birthday of Srila Prabhupada, Diwali, and Govardhana-puja.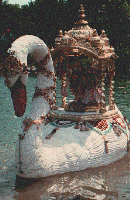 New Vrindavan also has special events on Memorial Day, Forth Of July and Labor Day weekends since those times are extended weekends and give people an opportunity to travel.
Devotees and guests alike relish prasadam. The foodstuffs are prepared daily in the kitchen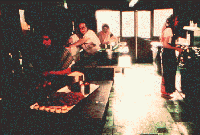 - Kitchen circa 1978 without ever being taste tested in the process of cooking. Then the foods are placed on special plates and offered on the alter. Offerings of food are made at several regulated times during the day. There is dal, rice, sabji, pakora, samosas, puri, chutney and chapatti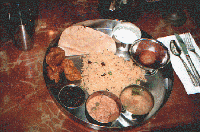 that might make up the main part of the offering. The sweets and deserts include halava, laddu, sandesh, burfi, sweet rice, and lassi. Upon being offered to God (Krishna) the foodstuffs become prasadam - the remnants or the mercy, of the Lord. Devotees only eat foods that are first offered to the Lord. Families usually have alters in their own homes where offerings are made and then taken as meals.