Palace Of Gold
The Palace of Gold started as a idea by Kirtanananda Swami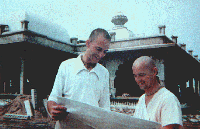 of wanting to build a residence for Srila Prabhupada at New Vrindavan. The project soon took on larger dimensions when the devotees sought to construct an Indian style structure, although knowing very little about Indian architecture.
The unique thing about the building of the Palace (and the community itself) was that the construction and all of the craft work was done exclusively by community residents.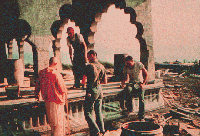 Amazingly enough, none of the residents were skilled artisans, but they actually developed these skills during "on the job training," and much of it self taught through trial and error; including marble cutting and design, as well as stained glass and wrought iron work. Not only did they build the Palace, they also constructed and equipped all the craft shops that contributed to the esthetic nature of the structure, resulting in its immediate interest to the outside world.
Through most of the 70's, the main focus was the construction of the Palace, spurred on by Prabhupada's statement that he would come to live there after the Palace was completed.
On his last visit to the community in 1976, Srila Prabhupada toured the construction site and was pleased by the efforts of the devotees. When one devotee pointed to the cement block walls, saying that they will be finished off with rare marble and jewels, Prabhupada was unimpressed, replying "the devotees are my jewels."
When Prabhupada passed away in Vrindavan, India in 1977 at the age of 82, the Palace was far from finished. The devotees completed the project as a tribute and a memorial to their loving teacher. The Palace was replete with elaborate gold leaf work, stain glass windows, marble work, murals,
an award winning rose garden, a gift shop, and an eloquent vegetarian restaurant.
Upon its grand opening in 1979, the Palace received over ten thousand visitors. The Palace of Gold soon became one of the largest tourist attractions in the state of West Virginia.
Since 1999 there has been an effort to raise much needed funds to repair the Palace since maintenance had been neglected for over a decade due in part to the dwindling funds and decrease of tourism in the 90's.
Additional Images
1
2
3
4
5
6
7
8
9
10
11
12
13
14
15
16